So September has descended upon us once again and that means a few things for me: The anniversary of Jason's death, the (official) start of school for my little's at the daycare and the annual art/tattoo convention at Gare Windsor here in Montreal.  I first went in 2005, again in 2006 and skipped it until 2009 where I was dragged  forced told I wasn't allowed to sit at home and cry (like I wanted to seeing as how my friend had just died two days prior).  Although at the 2009 convention I was glad I went because I had a great time!  This year, well I hate to say it but it fell pretty flat for me!
Last year we went on a Saturday which is by and large the most popular day overall of course so there was more going on.  This year I found was lacking pretty hard in a lot of ways.  Not much going on in terms of entertainment, a lot of the artists were from around here or at the very least from QC with a few exceptions.  So the whole over 150 international artists is total BS because well it's only international if your NOT from here right?
No one in our little party of three got tattooed today, did some walking around and talking to a few people that we knew and or were dying to meet.  So… Sadly, not much to tell about this year!  Although there were a few highlights to this years convention that I would like to very much mention.  I got to meet Ashley AKA Twwly from Suicide girls.  Which was awesome because I love reading her blog!  Her hubby Scott Duncan owns Sugar Shack tattoos in Kincardine, Ontario.  Who is such a super nice guy!  They also brought one of their adorable little's along (Miss Meeps) to the convention.  Who is even cuter in person!
Paul Booth's last rites was there which was cool in and of itself but Paul was not in residence today 🙁  I would LOVE to meet him, he's by and large one of my favorite tattoo artists!  Although Meeting Chris Nuñez last year was pretty special!
Also meeting Kat Von D in 2006 was pretty freaking awesome too since I LOVE her work!  She was also super nice!  Considering that everyone and their mother was hovering over her corner booth, poor girl likely had no room to breathe!  I find that some of the best artists are humble and nice.  There was one guy there sharing a booth with another guy who appeared to be a hardcore, high maintenance douche-bag!  He just oozed arrogance.  In any case there was something about this guy that was VERY off putting!  Although I have to give kudos to Monty from Monsters Ink (Medicine Hat, Alberta) for being Mr. Awesome Nice!  I spied this rather unusual skull print that was very striking and Monty who was the artist behind the limited edition print said he would sign it for me.  Which was super sweet since he was in the middle of getting a tattoo when I bought one and tracked him down!  With the help of one of his staff no less, which was also awesome and very, very kind of her as well 🙂
Last year I purchased a poster print that now sits in my living room: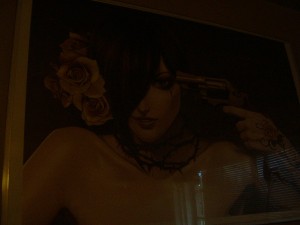 Not the best picture I know!  Anyway, the guy has more awesome art and while Anime art really isn't my overall favorite style…  He did have a few poster prints that really caught my eye last year and this year as well.  There was two that I was drawn too, the one pictured above and another one (that I don't have a picture of yet because it's staying in it's plastic wrap until I buy a frame due to renovations in my apt) except the other one I had my eye on last year is no longer in print or at least he didn't have it with him this year but I found another one that was complimentary to the one I already have.  Not bad for $20.00!  Although finding frames for both new prints will be a challenge since they're both unusual sizes (grr!) and I don't want to have to cut them down to squeeze them into a frame either.  So that should be an interesting task!
I also spotted some super adorable clothing from a local designer who was truly a gem to talk to!  You can find her kids clothing online here and some of her stuff for women  here. I seen a bunch of stuff that she had at the convention that isn't online that's adorable in that goth/punk meets girly kind of way.  An interesting combination that seemingly works quite well with her designs.  Lot's of great art to be seen (can't get the gallery to upload for some reason!) and I also got this super cute stuffed hand made girly skull key chain thingy that was too cute to pass up!
Not to mention a bunch of convention swag for Ania & company in Poland 🙂   Oh and yesterday I bought a kick ass pair of Airwalks.  Not a word about how small my feet are!  I love them!
You can't tell me that these aren't cute!
Care to check out my pictures from 2009/2010?  You can see them here for those of you who aren't my friends on FB 🙂
I WAS going to add a second gallery but word-press is being douchy and apparently you can't do that so I have to utilize facebook.  Oh well!  Not many from 2010, but it rarely changes from year to year anyway…  Overall I think the recession really put a damper on people's ability to travel and what not.  While people claim that tattooing is "recession proof"  and I believe that's true to a degree.  Although I've heard several horror stories from various artists about their luggage going missing/stolen with all their equipment in it.  Usually there's ALL kinds of international artists at the convention and I always love seeing them work because we have some awesome artists nation wide.  A lot I found were from Quebec and Ottawa as I previously mentioned and well I can pretty much walk into their shops anytime I want to right?
Maybe next year boys…