So last weekend and parts of this week have been insanely busy!  I had consigned myself to *not* going to the Metallica concert since no one else I knew was going and tickets were seemingly impossible to obtain and expensive, or so I thought…  Friday night I was at a benefit concert for my friends rescue.  That's when the deafness started, it was a heavy metal/punk indie show that consisted of several bands most of which were really good.  Needless to say I was impressed with the quality of some of the music.
Then Saturday I  helped deliver a wedding cake, trekked around the F1 track and went to a thank you BBQ @ Jackie's house with Jen & Clint which was nice.  I also got a new kitty, his name was tou-tou but has since been changed to Xavier and he's quite the handful but seems to be a happy kitty overall.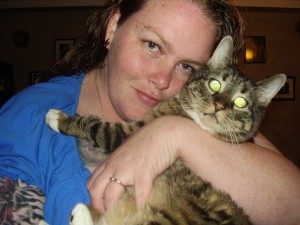 The Saturday when I got home from Beaconsfield I get a call from Krystal freaking out because she found a contact scalper for metallica tickets for $150.00 YAY!  We had AMAZING seats!  We were 3rd row from the floor which was really like having front row tickets because the first 2 rows in front of us were blocked off since we were in front of the sound stage.  Metallica KILLED IT!  They were AMAZING!  I have been DYING to go to one of their shows forever and I finally got to see them live!  Since the tickets were only $50.00 more then retail and I scored mine 6 hours before showtime it was a pretty sweet deal!
So after Metallica Sunday night I was pretty much deaf & dead tired!  The show started at 7:00pm right on time and Metallica hit the stage at 9:15 & rocked it out til 11:15 and played a few songs from their new album and of course all their awesome old songs too!
Then on Monday I recovered from Metallica and on Tuesday night we went to see Manson.  Manson was sick and I think that affected the show overall.  Kudos to him for sticking it out and putting on the show in the first place but I have to say I was a tad dissapointed.  Granted I'm not a huge Manson fan but we were on the floor for this one and there was long pauses between sets and the opening show die mannequin wasn't that great either…  Overall Manson was a whole lot of flash with some good tunes and overall put on a decent show.  I got sucked into the mosh pit in the front and made it to the front but for the most part I was about 6 people deep from the front of the stage.   I'll tell you, it was damn hard to get decent shots when your up to your armpits in people thrashing around and your camera is being pissy lol.
Now of course I'm sick!  I'll survive but I hate being sick!